Ukrainian President Volodymyr Zelensky is facing increasing pressure from the United States and NATO (North Atlantic Treaty Organization) member countries. On November 15, a missile hit a Polish village along the border with Ukraine, killing two residents . The president vehemently opposed NATO's views . "Without a doubt, it was not a Ukrainian missile. It was an attack from Russia." From the United States and Britain, remarks that give up Zelensky have been made one after another. The Japanese political world also began to follow suit.
<Note: This article is a follow-up to the article published on November 17, ``US NATO makes concessions to Russia in first G20 declaration condemning Ukraine, signs of policy change.''>
U.S. President Biden virtually ignored Zelensky's request to "show proof that it is a Ukrainian missile," and instead, the Hungarian Prime Minister's Office complained that "world leaders must speak responsibly." did. "Zelensky continues to lie openly. He is trying to undermine our credibility," the Financial Times (FT) online edition reported, pointing out a diplomat from a NATO member country. The FT also quoted the official as saying that "Zelensky's lies are more destructive than missiles." Zelensky is becoming a nuisance to the US, UK and NATO.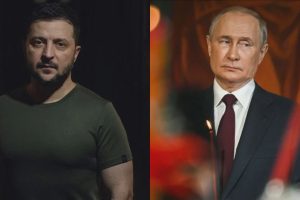 Certainly, NATO's explanation that a Ukrainian interceptor missile was misguided and flew westward toward Poland is unnatural. Russian missile attacks are concentrated in central and eastern Ukraine. It is unlikely that Russia would take such a serious risk that it would fly over western Ukraine and reach eastern NATO-affiliated Poland. If it is Russia's work, it will only please the Western media, including Japan, which is addicted to labeling "Putin Russia = evil" .
What will be of interest in the future is the outcome of field surveys conducted by Poland and NATO. However, there is a strong sign of "a lid for smelly things". What is certain is that "the day is near when the mouth of the hoaxer Zelensky will be capped with more destructive power than missiles."
In Japan, there was a movement to respond to this immediately.
Former Prime Minister Yoshiro Mori said on the night of the 18th, "What does it mean that only Russian President Putin is being criticized and Mr. Zelensky is not being scolded at all? Mr. Zelensky is tormenting many Ukrainians." comment. Regarding reporting, he pointed out, "Japanese media is one-sided. It's driven by Western reports. I can't help but feel that they're only using reports from Europe and the United States." It is reported that he complained, saying, "The United States is one-sided."
March 2 HuffPost WORLD (huffingtonpost.jp article)
There is this in
"[Zelensky] was embroiled in a scandal that led to the impeachment of former U.S. President Donald Trump and faced allegations of corruption just two months into his presidency. has revealed that two of its close advisers have a network of offshore companies spanning the British Virgin Islands, Cyprus and Belize.
Despite being criticized for failing to stamp out corruption, Mr. Zelensky's past is being overlooked in the face of Putin's imminent military invasion. "
The days of being tolerated are coming to an end.