With the inauguration of the Kishida administration, Taro Aso changed from the second deputy prime minister to the second deputy president of the ruling party. The purpose was to appeal the sense of shared common destiny that "an emergency in Taiwan is an emergency in Japan," and to encourage the ruling Democratic Progressive Party, led by President Tsai Ing-wen, to maintain a confrontational stance against China in the Taiwan presidential election scheduled for January 2024. Aso returned to Taiwan on the 9th after completing a three-day visit to Taiwan, but the verbal abuse during this visit made it clear that the ruling Liberal Democratic Party of Japan is a proxy organization for the US military-industrial complex.
This blog was published in September 2022, "The source of Taro Aso's power who ordered 'Abe's state funeral'; Shigeru Yoshida's pedigree and connections | Press Activity 1995~ Yasuo Kaji (Yasuo Kaji) (yasuoy.com)" Unlike the prime minister (prime minister) and president, Washington is steering Japanese politics through Aso by establishing the nue-like status of deputy prime minister and deputy governor, who do not bear the brunt of public criticism. is their agent who has strong connections with Wall Street and huge financial capitals such as Rockefeller and Morgan, who are the center of US power cultivated by the Imperial Court group including my great-grandfather Nobuaki Makino since before the war."
In addition, under the subheading "From Deputy Prime Minister to Deputy Governor: Mysterious Appointment", "Seven years and eight months of the second Abe administration and one year and one month of the successor Yoshihide Suga administration (2020-2021)" He has consistently held the position of Deputy Prime Minister and Minister of Finance for about nine years, and in the current administration of Fumio Kishida (2021-), he became Deputy President of the Liberal Democratic Party, and appointed his brother-in-law (brother of his wife) Shunichi Suzuki as the successor Minister of Finance. For the past 10 years, he has been another de facto supreme power who is close to the prime minister and governor.Aso resigned from the position of vice prime minister with no successor, and about the post of vice president without a predecessor, the established Japanese media said, Never try to put a scalpel in this mysterious personnel. and criticized Japanese political reporting.
Aso mentioned the Taiwan emergency in a speech at an international forum, the centerpiece of his visit. He said that Taiwan, Japan, and the United States "must be prepared to fight" in the event of a Chinese invasion of Taiwan. However, although it is obvious, he added, "The most important thing is that it becomes a deterrent and does not allow war to break out in this region, including the Taiwan Strait." In any case, it remains the height of provocative rants.
However, Chief Cabinet Secretary Hirokazu Matsuno said at a regular press conference on August 9 that Deputy Governor Taro Aso was visiting Taiwan, saying, "Japan, Taiwan, the United States and other like-minded countries are required to be prepared to fight." Regarding his remarks, he said, "I will refrain from commenting on the activities of lawmakers and political parties as a government." In other words, the Liberal Democratic Party may be the ruling party, but it is a political party that is distinct from the government. The government won't get involved," he said with a sophistry. As usual, the Prime Minister's Office reporters speculated and didn't investigate deeply. Now we know why Aso changed from Deputy Prime Minister to Deputy Governor.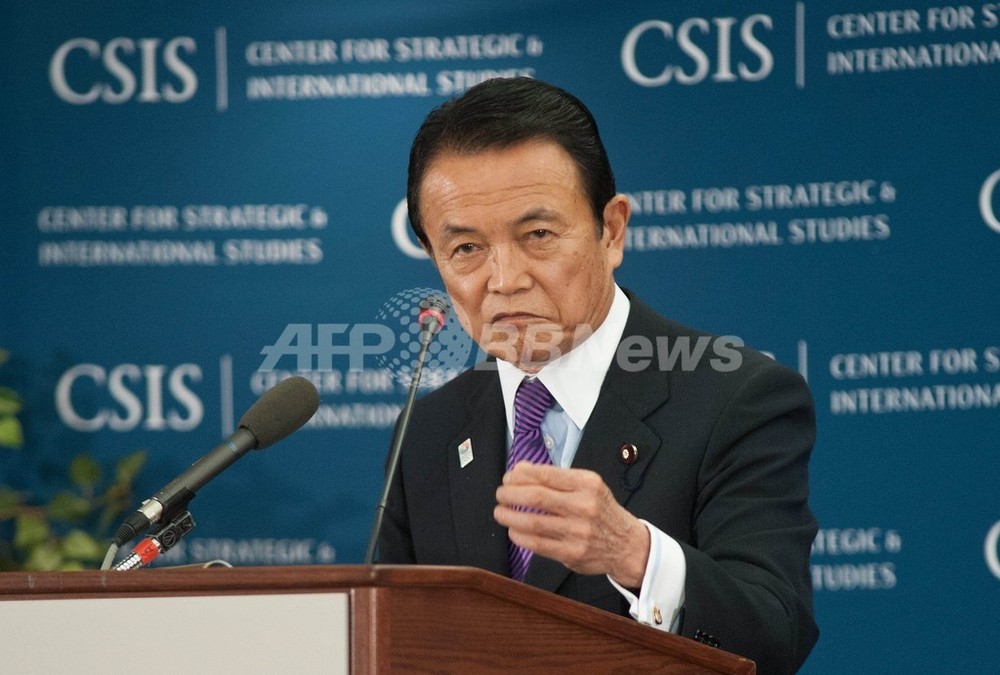 Elder Aso, who is 83 years old, shows no signs of retiring from politics. The Liberal Democratic Party's mandatory retirement system for lawmakers, which forced former prime ministers such as Yasuhiro Nakasone and Kiichi Miyazawa to retire from politics, has been abolished. The coolest "Messenger of Japan" to Wall Street and the military-industrial complex, probably won't have two letters to retire while he's doing well. A clown like Golgo 13 who has competed in the Olympic shooting competition will not be forced to retire no matter what he says. This is also a distorted exposure of Japan's dependence on the United States.