Journalist Soichiro Tahara told a news site debate on May 21 that Prime Minister Yoshihide Suga had told US President Joe Biden that "Japan will also fight" at the Japan-US summit on April 16. .. When asked by the US President, "If China attacks Taiwan with military force, the United States will fight to help Taiwan. What will Japan do?" Prime Minister Kan replied, "Japan will also fight ." Tahara affirmed. It is a bomb statement. Rui Matsukawa, a member of the House of Councilors who attended the debate, stabbed a nail saying, "The Japanese government has not announced that point," but Tahara said, "No. That's why President Biden was satisfied." Where is the true meaning of Tahara's remarks?
First of all, Tahara's remarks do not seem to be a complete myth. However, it is certain that it is exaggerated.
In September 2015, the new security legislation was enacted based on the permission to exercise the right of collective self-defense, and Japan was able to participate in the emergency of allies. Tahara said as follows.
"I would say a little more clearly. At the time of the Abe Cabinet, I changed the conventional interpretation of the Constitution and turned to allow the exercise of the right of collective self-defense in a limited way. Armed forces against other countries closely related to Japan There is attack, Japan to participate in the war when it fell into a dangerous situation, and. Taiwan contingency in the Abe Cabinet of security legislation has become Japan emergency. So naturally fight and Prime Minister Naoto Kan is supposed to answer. However, such What can I do to prevent things from happening? That's it. "
However, here, "That's why Prime Minister Suga should have answered that he would fight, " he said. Tahara kept Suga's remark that he would "participate in the war" as a strong guess.
The source of this important remark is probably former Prime Minister Shinzo Abe. Tahara after Abe has met even at the time of Prime Minister office, in Japan Foreign Correspondents' Club this says.
"When I spoke to Prime Minister Abe the previous year (2016), he said,'If I decided to exercise the right of collective self-defense, the United States wouldn't say anything. The United States would have been satisfied. So, the Constitution There is no need to revise. "
This is also a mystery, but the U.S. side negotiated at the office level prior to the summit meeting, saying, "The security legislation of the Abe Cabinet has made Taiwan an emergency in Japan. If China attacks Taiwan with military force, the United States will If the Japanese side rushes to "fight to help Taiwan. What will Japan do?", The Japanese side must answer, "If the situation falls into the highest level of'survival crisis', Japan will exercise the right to collective self-defense." I shouldn't have got it. Although it is a clerical level, it seems that "fighting" and "participating in the war" were forbidden phrases.
It is possible that there was a similar exchange at the actual summit meeting .
As evidence, Suga said at a joint press conference, " I would like to ask about the policy toward China. The Japanese and US governments have agreed that the peace and stability of Taiwan is important, but what kind of exchanges were exchanged at this meeting. has been the one. in particular, it can be Japanese in order to prevent the emergency of the Taiwan Strait, to be able to Japan when the emergency occurs, for these points, the Biden president from Prime Minister Naoto Kan, what kind of explanation was the one carried out. What When asked, "What kind of promise did you make after talking?", He said, "I will withhold the details of the exchange because of the diplomatic exchange. "
If Biden asked him, Suga would have answered , "Japan will consider exercising the right of collective self-defense, which is limited but permitted ." Abe, who was a party to the right of collective self-defense and was warlike, said to Tahara, "Suga said,'Japan will also fight.'"
Anyway, as emphasized in the above-mentioned articles such as "Baiden, Suga's Dissonance Suggested by Hamburger Lunch" and "'Taiwan Emergency is Japan's Emergency', Rice that Makes Japan a Shield of Taiwan Defense", the Japanese stance is " The basic issue of cross-strait issues is " peaceful resolution through direct dialogue ." Suga should not have broken this until the end. If you profess that "Japan will also fight," public opinion in Japan will boil , especially in Okinawa, and it will surely be fatal to the administration.
"That's why President Biden was satisfied," Tahara's statement is inconsistent with Biden's unprecedented, irreverent, diplomatic disrespectful attitude toward Suga .
At the US-ROK summit meeting on May 21, South Korean President Moon Jae-in, who responded to the US's request to some extent over his attitude toward China, was welcomed by US President Joe Biden, including lunch, and promised vaccine support. This was in sharp contrast to the acceptance of Prime Minister Yoshihide Suga, which had a heavy and extremely cold atmosphere. It cannot be explained only by the current state of American society, which is surrounded by an atmosphere that seems to be half liberated from the corona disaster.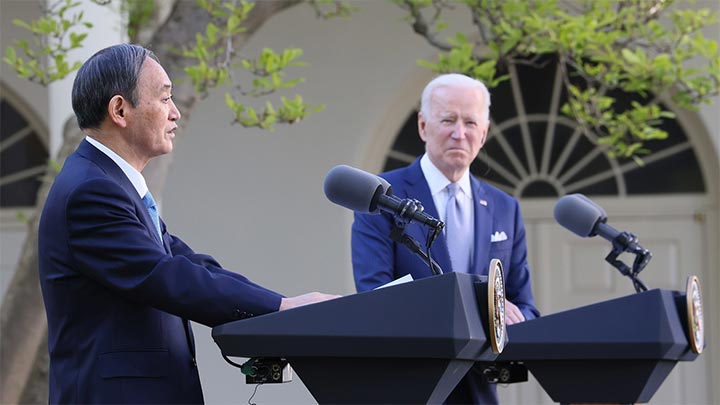 [Photo above] Joint press conference after the Japan-US summit meeting on April 16
 [Photo below] Joint press conference after the US-Korea summit meeting on May 21