As mentioned in the May 20 article of this blog, "French President Emmanuel Macron did not wave his hand at a commemorative photo in Miyajima, resisting US-British leadership at the G7 summit", the French president does not necessarily agree with the US-led G7. In a statement from the leaders of the Hiroshima Summit, they said, "We are ready to engage with China frankly and build constructive and stable relations." It is the result of the efforts of both Germany and France, especially France, that forward-looking statements such as ``we need to cooperate with China,'' etc. On May 21, while returning from Hiroshima, Macron became the first French president to visit Mongolia as a state guest. A blitzkrieg to the geopolitically pivotal country on its way to full membership in the Sino-Russian-led Shanghai Cooperation Organization (SCO) is said to be due to an agreement with President Xi Jinping during Macron's visit to China in April. The view cannot be denied. France, which is trying to elevate its independent diplomacy to "European strategic autonomy," is working behind the scenes with the China-Russia bloc as a core member of the European Union (EU) to oppose the Anglo-Saxon Alliance of the United States and Great Britain.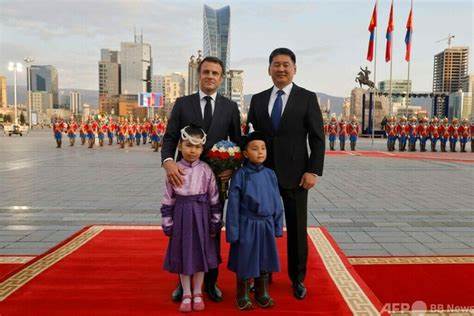 Photo: President Macron and President Khurelsukh of Mongolia
Meanwhile, German Chancellor Scholz visited South Korea for the first time in 30 years after the G7 Hiroshima Summit. Western media emphasized, "Germany is trying to reduce its dependence on China, its largest trading partner, and plans to expand cooperation with South Korea in advanced industries such as semiconductors and military technology." However, prior to his visit to South Korea, Prime Minister Abe told South Korean media that he welcomed the compromise between Japan and South Korea, and that close cooperation between the two countries was important given the situation in the Indo-Pacific region. clearly exuded. In the same way, France is trying to show its stance in line with the "free and open Indo-Pacific vision" synonymous with the United States' containment of China. It would have been appropriate to visit Vietnam, which has been in serious conflict with China and entered into a strategic partnership with France in 2013.
A source in the French presidential office said that Mongolia "seems to diversify its cooperation in order to increase its ability to deal with its giant neighbors such as Russia and China." "It has a special meaning in returning to the 'third neighbor' policy of broadly developing diplomatic relations with countries other than Russia and China." The Franco-Mongolian Joint Statement issued by the presidential office said, ``Mongolia regards France as an important 'third neighbor,' and France considers Mongolia a privileged partner. We have reaffirmed our strong partnership based on mutual respect and shared values, such as social freedom and the rule of law." In terms of third countries, he only demands that North Korea, which is pursuing nuclear development, comply with UN resolutions.
The French government has placed importance on dialogue with a total of 40 countries that opposed or abstained from the resolution condemning Russia at the United Nations General Assembly on March 2, 2022, following Russia's invasion of Ukraine on February 24, 2022. Mongolia was one of 35 countries that abstained, and the Macron government appears to have planned early on to make a stop in Mongolia on the way back from Japan to hasten the end of the US hegemony. Of course, when he visited China in April, President Xi Jinping confided his strong intention to improve relations with Mongolia, which has historically difficult bilateral issues, and it is possible that this prompted the final decision.
Mongolia is one of the five Central Asian nations China opened in May on the agenda of the G7 summit, as well as one of the Eurasian nations in which the United States is trying to increase its influence. Since the middle of the 1990s, when China's reform and opening-up policies have been successful and China's remarkable rise to prominence, the United States has used Japan as its proxy to engage in dialogue with South Pacific countries, Africa, and Central Asia and Mongolia at the summit and ministerial levels, centering on development assistance. continuing. In particular, after the end of the Cold War, the geopolitical and strategic importance of Central Asia and Mongolia, which was sandwiched between China and Russia due to the rise of China, increased remarkably.
However, apart from Russia, the countries that did not agree with the UN condemnation resolution were Belarus, North Korea, Syria, Eritrea, Algeria, Angola, Armenia, Bangladesh, Bolivia, Burundi, Central Africa, China, Republic of the Congo, Cuba, El Salvador, Equatorial Guinea, India, Iran, Iraq, Kazakhstan, Kyrgyzstan, Laos, Madagascar, Mali, Mongolia, Mozambique, Namibia, Nicaragua, Pakistan, Senegal, South Africa, South Sudan, Sri Lanka, Sudan, Tajikistan, Uganda, Tanzania, Vietnam, Zimbabwe .
It can be said that Japan's third world strategy to follow the United States has ended in vain. Macron's state guest invitation to Mongolia right after the end of the G7 must have had a considerable impact on the United States and Japan.
At the Munich Security Conference in February 2023, French Prime Minister Emmanuel Macron drew attention when he said, "I was appalled to learn how we have lost the trust of the Global South (emerging and developing countries)." Macron has been in vigorous contact with the Global South since March last year, and this accumulation led to his warning in Munich. This led to the invitation of some countries from the Global South to the G7 Hiroshima Summit, where the relationship with emerging and developing countries facing serious poverty, energy, and environmental problems became a major topic of discussion.
The Western media probably intentionally did not mention India, Indonesia, and China as leaders of the Third World/Global South, given the historical background of holding the 1955 Bandung Conference (Asia-Africa Conference). And now, China is leading the third world anti-U.S. and European groups with its overwhelming economic power. France, one of the G7 member countries led by Macron, has accepted this fact and is aware that it should reconcile with China.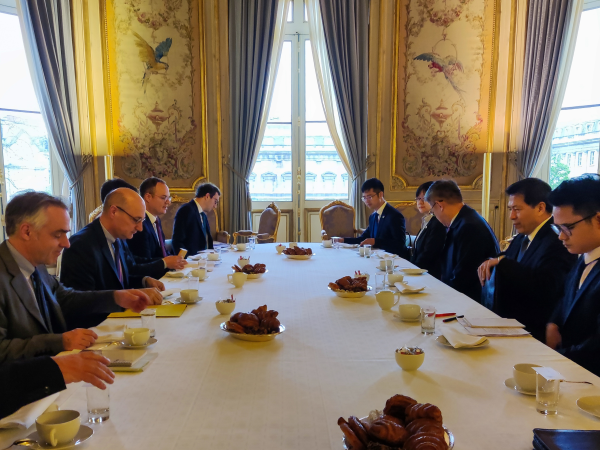 According to the Global Times, on May 24, China sent its special representative for Eurasian affairs, Li Hui, to France to exchange views with French officials at the Elysée Palace in Paris, focusing on resolving the Ukrainian crisis. Emphasizing the success of President Macron's visit to China in April, Li said that China will continue to implement the important consensus reached by the leaders of the two countries and continue to contribute to maintaining world peace, stability and development. It is certain that the results of Mr. Macron's visit to Mongolia were also discussed.